As a follow-up to our popular Ultimate Spring Produce Recipe Guide, we've gathered summer fruits and vegetables and paired them with recipes you'll want to make at home. From beets to papaya, learn what spices, flavors and herbs go with this season's hottest produce in our Summer Produce Recipes Guide.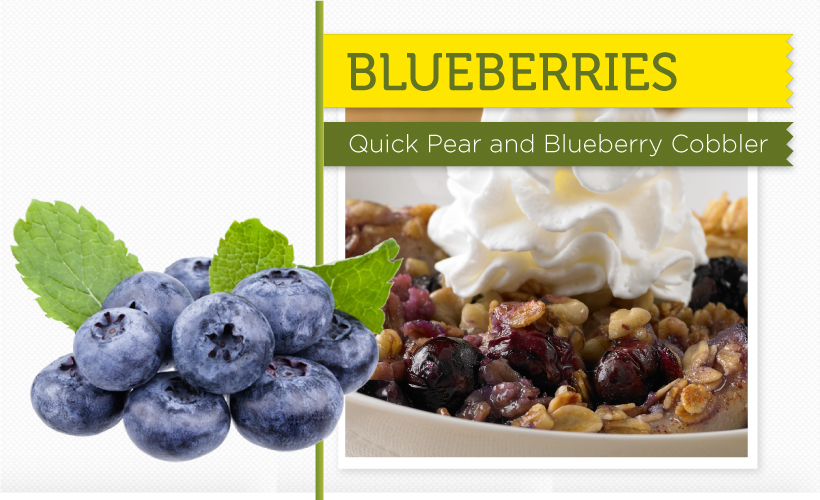 This sweet, juicy, deep-purple little wonder is in peak season June through August. Filled with antioxidants that may help prevent inflammation and certain cancers, blueberries are both healthy and delicious. Sprinkle them on cereal or yogurt, mix them into a fruit salad, or onto a variety of baked goods like a Pear and Blueberry Cobbler. With blueberries, you can't go wrong. Learn more about blueberries here.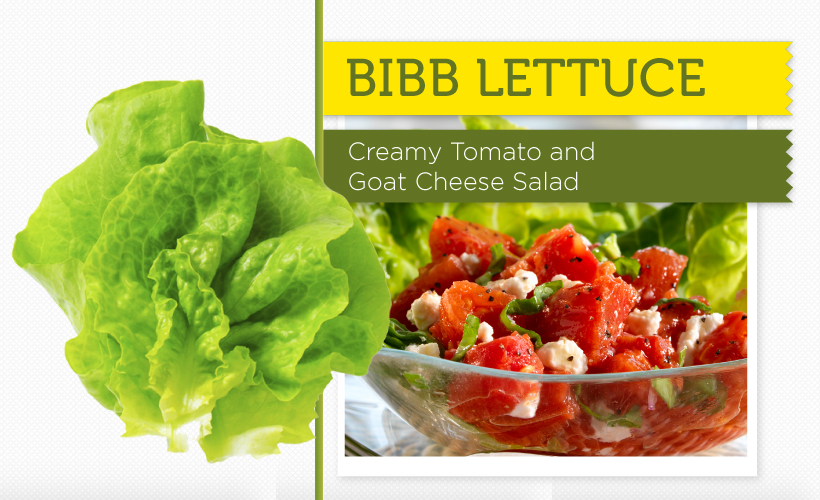 Named after the man who first cultivated it in the 1860s, John Bibb, this lettuce is grouped with those that are small, round, and have loosely formed heads — the leaves look almost cup-like. The Bibb's leaves have a tender and sweet, buttery flavor that goes well with herbs such as basil, chervil, cilantro, parsley and tarragon. For a cup full of flavor try a Creamy Tomato and Goat Cheese Salad.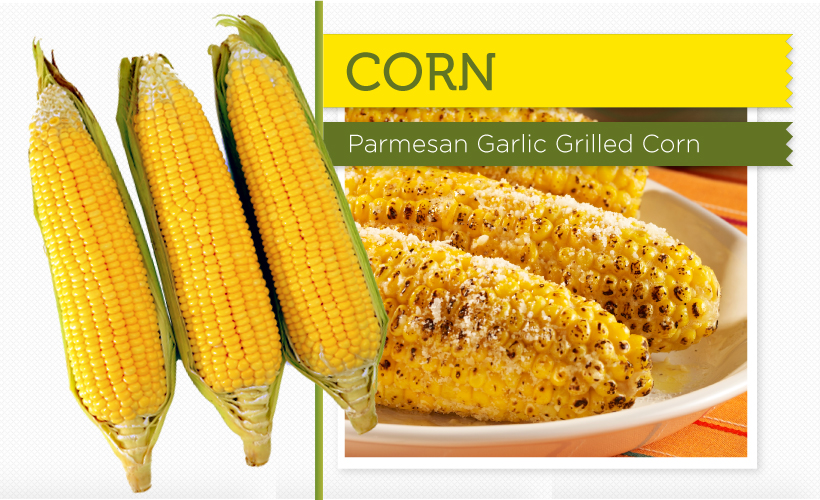 Domesticated between 7,000 and 10,000 years ago, corn has more than 200 varieties and is one of the world's largest food crops with yellow and white corn among the most popular. Though the debate continues on whether yellow corn is sweeter than white corn, there is actually no correlation between its color and sweetness. Remarkably versatile, corn can be roasted, grilled, boiled, pressure-cooked and sautéed. And as if you didn't know already, corn goes nicely with salsas, salads, soups, casseroles, black beans, tomatoes or with a little Parmesan cheese and garlic.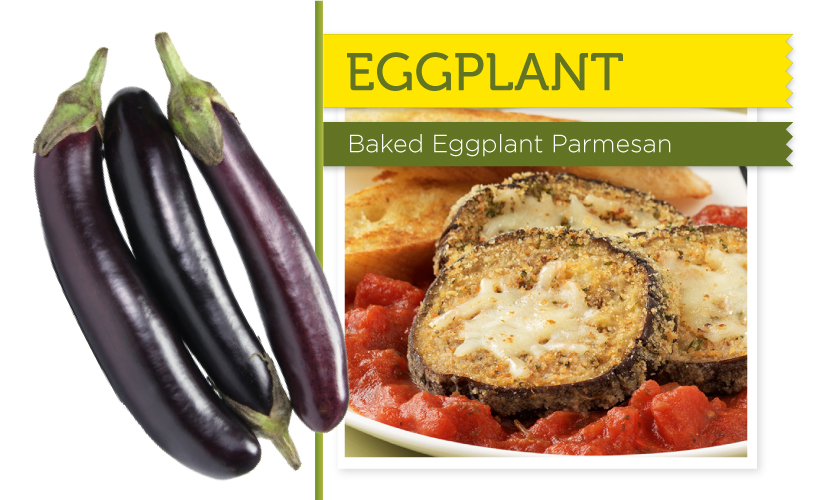 Have you ever wondered why it's even called an eggplant? We did, so we found out, and apparently it's quite simple: white eggplants look somewhat like eggs and the name stuck. With a variety of colors and sizes, eggplants are used in dishes like eggplant Parmesan, stir-fries, stews, sauces, relishes, and so much more. Flavors and herbs that mesh well with eggplants are Balsamic vinegar, basil, garlic, lemon, olive oil, oregano, parsley, red pepper flakes and sesame.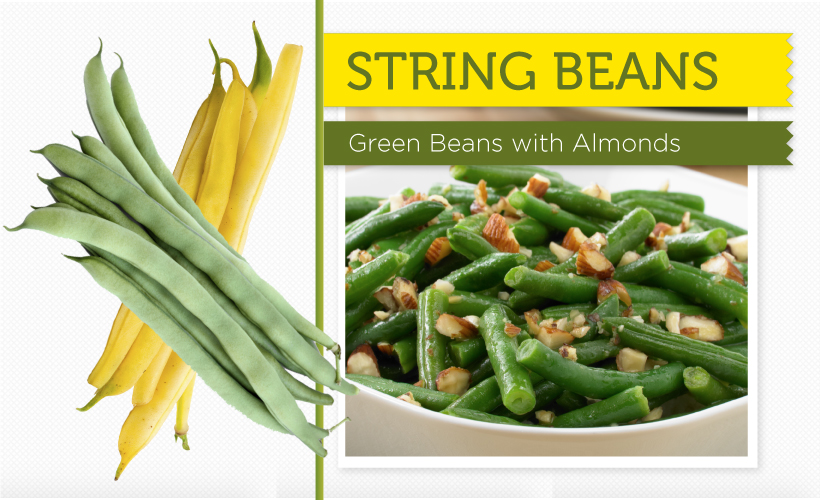 Also known as snap beans, for the sound they make when they're snapped in half, string beans are a specific type of green bean — others being Chinese long beans, flat green beans and French green beans. They're named green beans not because of their color, but because of their immaturity when harvested. String beans go particularly well with certain herbs like basil, chives, dill, oregano, parsley and tarragon, and foods like almonds, bacon, flounder, pork and tuna.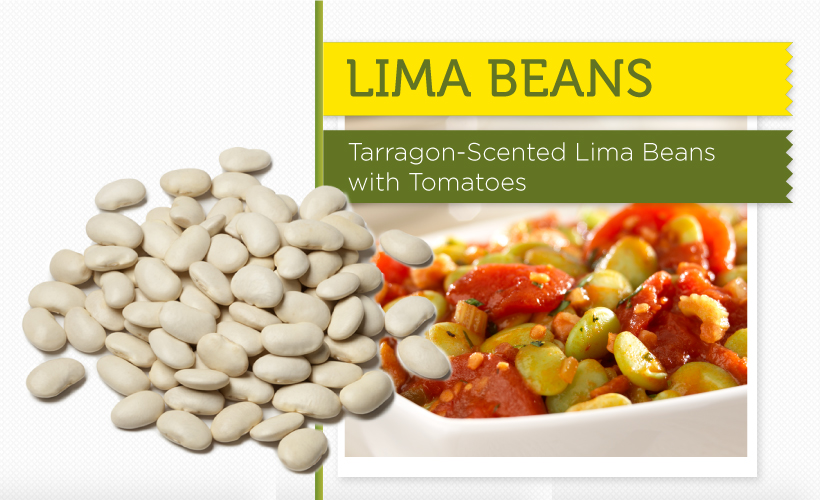 Lima beans are a type of legume that are grown and eaten for their seeds. Lima beans get their name from … you guessed it: Lima, Peru. In the United States they are also known as "butter beans" because of their buttery flavor and creamy texture —they make for a delicious side dish. Their peak season is in July-October, so get them while they're hot!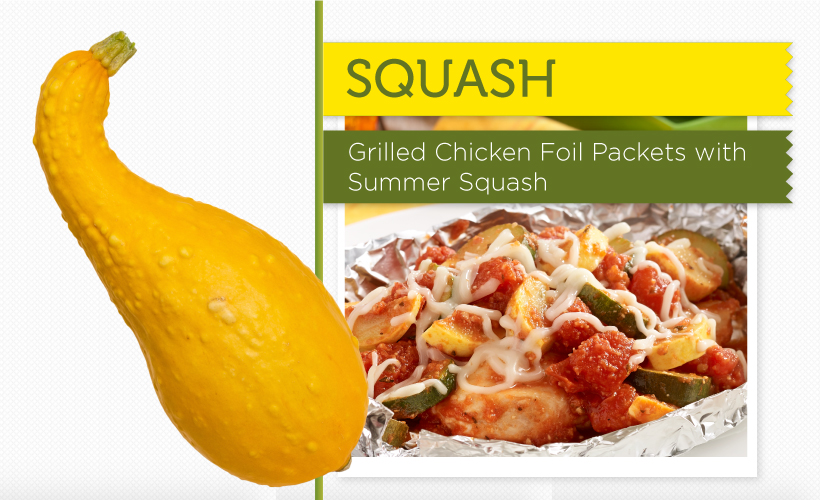 Yellow squash, also known as crookneck, is one of the many summer squashes that are available (Fun Fact: Zucchini is also a summer squash but unlike the summer squash, it is available year-round). Common among summer squashes, the yellow squash is picked young and tender and can be served raw or cooked. Its taste profile is a mild, slightly sweet flavor, which pairs well with butter, cinnamon, dill, garlic, lemon, mint, nutmeg, oregano, pepper and rosemary. Common foods that also pair well are apples, bacon, feta, lamb and pork.
Tomatillo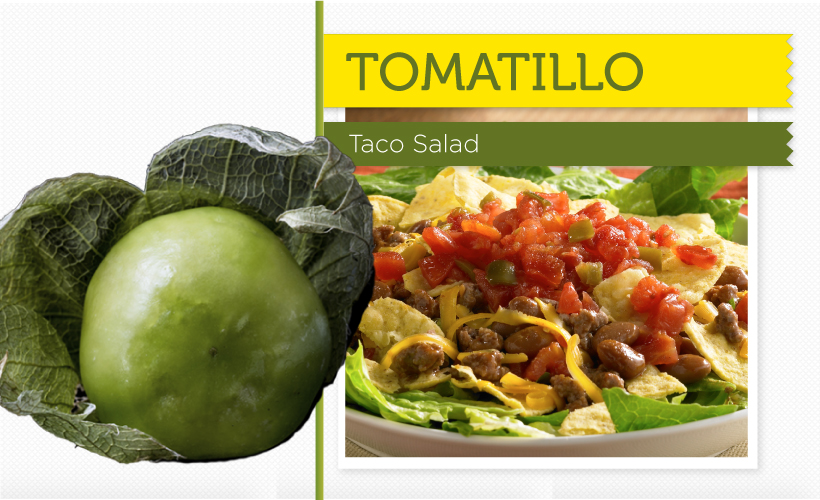 Tomatillo (pronounced toh-mah-tee-oh), also known as tomate verde, is a close relative of the tomato. The tomatillo is small compared to a tomato and is green and wrapped in a small brown husk. It comes in two colors: yellow and green. The green tomatillos, however, are the preferred choice for most recipes because of their pleasing acidic flavor, which is lightly tart with hints of lemon and apple. When cooked, it is the key ingredient in chile sauces and cooked salsas, like Salsa Verde — yup, that's the salsa you order when you have Mexican take-out. Add tomatillos to your guacamole, gazpacho, salads and sandwiches.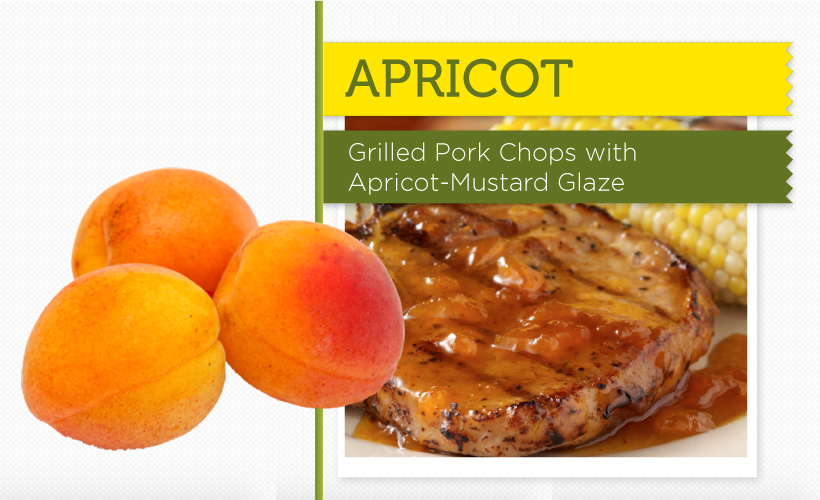 Apricots originated more than 4,000 years ago in China and were known as "Moons of the Faithful" (intense!). Today most of the apricots produced in the U.S. are grown in northern California. They have a sweet-tart flavor that makes them perfect for use in compotes, sauces and tarts. If you chop them up they can be added to batter for bread, muffins, pancakes and coffee cakes. Apricots are not just for sweet dishes — they're also perfect for savory dishes and go well with chicken, lamb and pork. For a delicious pork recipe try Grilled Pork Chops with Apricot-Mustard Glaze.
Papaya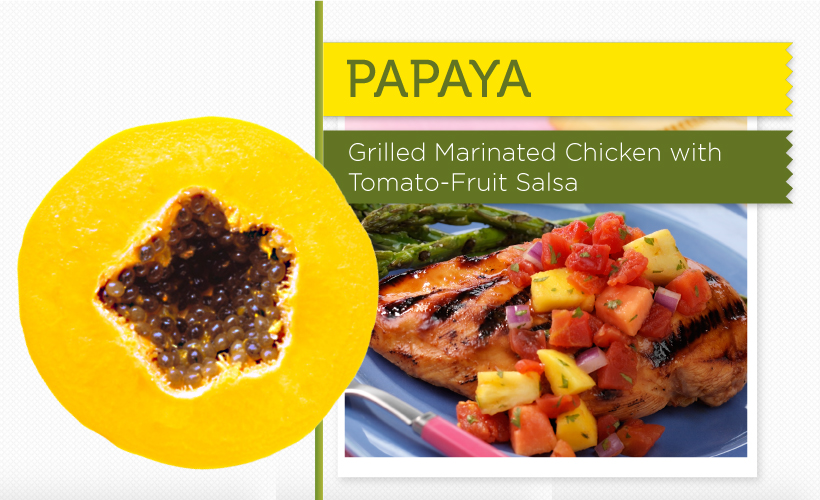 You can slice them, dice them, or eat them with a spoon. You can use fresh papayas in salads, sauces and desserts and they can be paired with a variety of foods like avocados, almonds, chicken, prosciutto and yogurt. Yum!